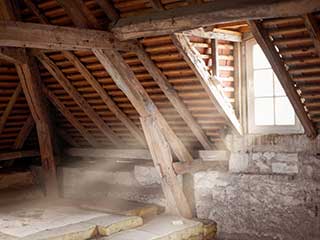 When was the last time you cleaned your attic? Actually, when was the last time you checked on it? Many people ignore attic space and keep it out of sight and mind. However, the impact your attic's cleanliness can have on the overall health and energy usage of your home is immense. Without frequent attention, your attic will become home not only to dust, allergens, and mold but to a far bigger danger - rodents. Before you roll up your sleeves and get to work, try to determine the state of the attic and establish whether it is a light DIY job or a problem that requires a specialist's attention.
Rodent Infestation
Even after the rodents are eliminated, their damage remains. The feces which they leave often lead to air contamination and present harm to household members. Rodents also frequently damage and contaminate the insulation itself, which at may need to be fixed or replaced. An improper attic insulation can lead to heat loss and increased energy bills as time goes by. A professional will have all the necessary protective gear and equipment to get rid of the hazardous material in a safe and fully effective manner.
Installation Of New Material
Whether it's new insulation that needs installing or replacing a damaged floor joist, it's important that the procedure is done correctly. Restoring an attic on your own accord can cost you more money than hiring a professional would if a mistake occurs.
Getting Rid of The Waste
Dealing with all the heavy junk yourself can result in back pain and a world of trouble. Know when it's time to call a professional as you always get that added bonus of manpower. The technicians will remove all of the unnecessary storage or waste for you and might also provide tips on reorganizing the attic space in order to prevent future infestation and bacterial growth.