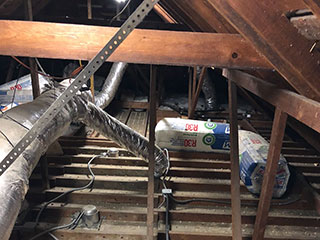 Unlike the more visible parts of your home, crawl spaces rarely receive the attention they deserve. These hard-to-reach areas act as 5-star hotels for pests and mold infestation that can lead to hazardous conditions if left unaddressed. Hire our technicians for top-notch cleaning and decontamination services that will turn your home in a more pleasant and healthy space all-around.
What to Expect in a Dirty Crawl Space
There are a number of problems that could develop if this area remains ignored. Most often, we get calls because there has been a:
• Pest infestation
• Damaged or poorly working insulation
• Bad smell
• Water damage and mold & mildew growth
If you've come across any of these during your last visit to the area, consider hiring one of our experts at Attic Cleaning San Bruno to resolve the issue promptly and professionally. Our team has the right experience and equipment to eliminate the traces of contamination and prevent mold & mildew growth. We can restore the site to an immaculate condition that will save you money on energy usage and give you a peace of mind knowing your family is living in a clean and healthy environment.
Why we're Your Team for the Job
Our crawl space cleaning & decontamination services are second to none and so are our mold prevention and rodent control & proofing methods. With us, you can rest assured you're getting a level of professionalism and dedication to a job well-done like nowhere else. This is because we take special pride in helping our customers lead healthier lives while at the same time saving them money on energy bills.
Advanced Technology & Experienced Team
Our use of state-of-the-art tools and equipment ensures your energy efficiency goals are met as well as the highest standards of indoor air quality. What's more, we take time to prepare and train each of our crew members so that no job is too difficult to handle. By consistently focusing on customer satisfaction and professionalism, we also aim to offer affordable pricing for a prompt and friendly service. Get in touch today to book an appointment!