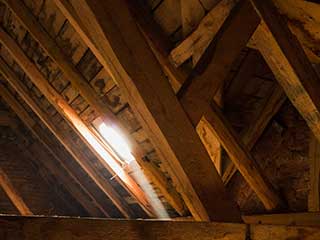 Protect Your Health
Your home has so many projects that need tending to, you may not know why you should move an attic cleaning to the top of that list. However, you might want to consider it! Dust that's been accumulating in your attic for years is detrimental to both your home's health, and your own. It encourages mold growth and rodent infestations, both of which can cause damage to wood, insulation, and otherwise. Mold and rodent waste also are health hazards, and the dust alone can pollute your home's air and cause troubles for those with breathing issues already. If your or a family member have asthma, or otherwise, it's even more vital to keep your attic cleaned.
Cut Back On Energy Waste
You may also be losing on energy spending, thanks to the dust and other substances clogging your ducts and slowing air flow. Your heater and air conditioning will have to run longer to keep the temperature comfortable as the air has to work through the build ups of dirt, meaning more energy is used over time. Don't let your money be wasted on unnecessary energy spending!
We'll Take Care Of It
Not to worry, our experts will be able to have it pristine before you know it! We'll come at a time that's best for your schedule and use the highest quality equipment to safely remove all dust, debris, and otherwise. It's important that this process is done carefully to avoid particles cross-contaminating your home's air and thus worsening the quality. That's why we use a high-powered vacuum and make sure that every nook and cranny is tended to. It'll all be disposed of safely, and you'll be free of concerns over how healthy your home's air is! It also goes a long way in protecting your attic from harm as well.
Don't Wait Any Longer
For the sake of your family's health, and protecting your home's integrity, regular attic cleanings are a must! To find out more and get yours scheduled today, call Attic Cleaning San Bruno now. You'll be glad you did!
You can also count on us for:
Crawl Space Vapor Barrier
Attic Ventilation Improvements
Residential Attic Cleaning