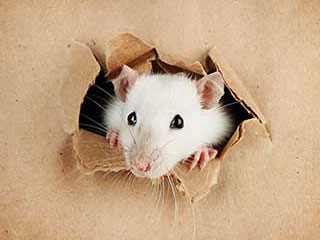 They might be small animals, but rats, mice, and other rodents can have a huge impact on your health and quality of life. Let our professional pest removal team clear and proof your property against these invaders.
Keeping Pests Out
As with most problems, an ounce of prevention is worth a pound of cure. Rats and mice can get into a building through tiny cracks and openings, and the entrances of a mouse hole are rarely obvious; that's why our team will go over your property with a fine-tooth comb and a well-trained eye for detail, catching every possible access point and stuffing them with steel wool that rodents can't chew through. This is especially important if the building has had rodent problems in the past, as those same holes and crevices aren't going to go away on their own.
Removing An Infestation
If you're dealing with rodent problems currently, you should know that capturing and removing the animals is a better choice than killing them, not just out of kindness to the rodents. For one thing, poison can be a hazard to your pets - the residue from sprays or edible poisons can leak into the soil or groundwater and harm the environment. For these reasons, our company practices non-lethal capture only, using thorough search techniques and sophisticated traps to catch pests and remove them alive.
Don't Risk It
Rats and mice are often more dangerous than they're given credit for. Furniture, clothing and wires can all be destroyed by rodents chewing through, as can paper documents. Wall insulation can also get punctured by their burrowing through. More seriously, mice and rats are notorious carriers of illness, and can infect your food pantries or leaving droppings behind in your living or sleeping areas. As such, living with an infestation can be hazardous to your physical health - don't let it continue!
Contact Us Today
Whether you believe your property is currently infested by rodents, or you just want to proof it against future invaders, Attic Cleaning San Bruno is here to keep you, your household or business safe. Don't risk it! Get in touch today and let us know how we can help you.
Couldn't find what you're looking for? We also offer:
Radient Barrier Installation
Crawl Space Cleaning & Repair
Cleaning & Decontamination